AUDUBON CURLING CHAIN STAINLESS STEEL MESH 

- Manufactured in  304 Stainless Steel.

- Lightweight flexible wire mesh for bread and dough machines, bread moulders,

  dough  molders.

- We stock in widths up to 15" wide.

- We stock in  both  .047" diameter wire and  .063" diameter wire.

- Priced per linear foot. Let our customer service team know your width and  length 

  requirements.

- Available in widths greater  than 15" with a  2 week lead.

- Available in other wire diameters  with a 2 week lead.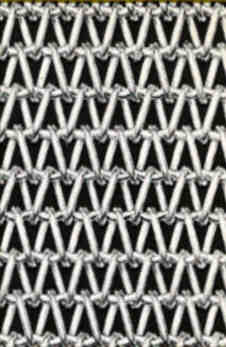 AUDUBON

850 Pennsylvania Blvd

Feasterville PA  19053  usa

PH:  (800) 523-0169

FX:   (215) 364-1783


Used with:

Bakery Equipment Machines

Bread and Roll Equipment  Machines

Dough Equipment Machines

Bread and Dough Molders 

Bakery Equipment

Bread Cutters


...Manufacturing Stainless Steel Wire Mesh SInce 1884


Stock in .063" or .047" wire